Create Mobile/Cell Phone Polls and Surveys for FREE!
Get instant responses from your audience during a lecture or presentation.
Increase audience involvement by having them respond to your questions right from their web enabled mobile phones. Responses are represented in an attractive graph on your machine instantly.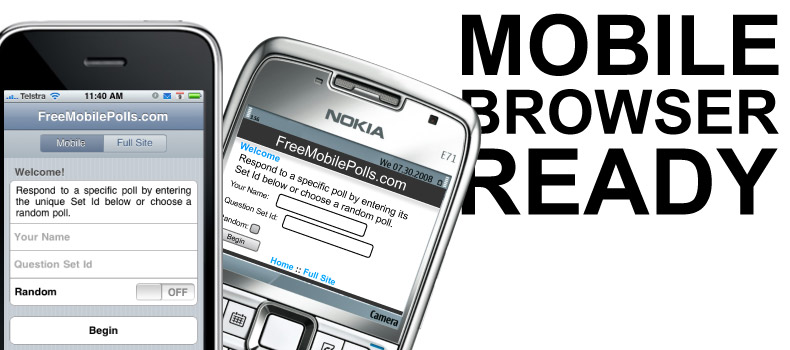 The free mobile polls website caters for all mobile devices.
After entering www.freemobilepolls.com, visitors with an iPhone are automatically redirected to our iPhone web app which is specially designed for fast one-step responses to polls. Visitors with other mobile devices are redirected to the speed optimized mobile page which has the same functionality as the iPhone web app. Both mobile sites give the visitor the option to view the full site if desired.
Great for feedback
Allow your audience to rate your presentation, giving you valuable feedback and constructive criticism for the future.
Perfect for testing your class
The FreeMobilePolls.com platform allows your students to enter their name, allowing you to discreetly identify the individuals needing revision sessions.